Bowers & Wilkins PV1D wins European Home Theatre Subwoofer 2012-1013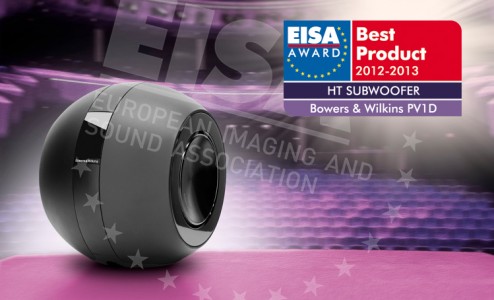 Bowers & Wilkins is proud to announce that PV1D has won European Home Theatre Subwoofer 2012-2013 at the European Imaging and Sound Association (EISA) awards. These prestigious awards are uniquely decided upon by representatives of the Hi-Fi and Home Theatre reviewing community from across Europe.

The PV1D sees what is easily the most successful Bowers & Wilkins subwoofer get a dramatic update. While it retains its iconic, acoustically principled shape, the PV1D now moves to the digital platform developed for the flagship Bowers & Wilkins DB1 subwoofer. This provides increased flexibility and performance enhancements that coupled with new drive units and amplification, lead to dramatically improved output. It delivers deeper and faster bass than the previous model, and is equally at home with music and movies.

A new OLED display and touch button array provide easy access to a number of pre-sets and tuning options, while a custom version of Bowers & Wilkins SubApp PC software provides more advanced set-up options. Subtle styling updates and new finishes bring the PV1D bang up to date.

The judges concluded: "The Bowers & Wilkins PV1D is no ordinary subwoofer, it's bass done with style. Its curvaceous shell houses a pair of back-to-back drivers, mounted to cancel unwanted resonances, and powered by a new 400W-rated Class D amplifier. The drivers are equally special, the lightweight but very stiff diaphragms a sandwich of expanded polystyrene between an aluminium face and rear paper/Kevlar layer.
"Comprehensive on-board DSP prevents overload and audible distortion from this deceptively compact sub while Bowers & Wilkins' recommended low-pass filter and delay settings aids its integration into both 2.1 and fully-fledged 7.1 home theatre speaker systems. Action movie fans will be delighted to discover Bowers & Wilkins' four EQ presets, one of which will fill any room with a clean and deep, rib-tickling bass."

PV1D performs extremely well in an audiophile 2.1 system or as a home theatre system. It is a key element in the Bowers & Wilkins MT-60D Mini Theatre system, but can be partnered with much larger loudspeakers as well.