Bowers & Wilkins - C5 in-ear, noise-isolating headphones

C5 in-ear, noise-isolating headphones offer pristine sound quality on the move. The innovative Secure Loop design keeps C5 comfortably in place, and aids fit and performance. Plus the proprietary Micro Porous Filter enables C5 to produce a wonderfully open, natural performance, perfect for longer listening sessions.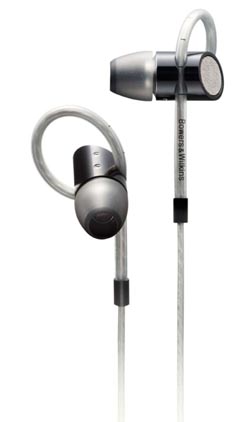 Bowers & Wilkins is proud to announce C5 in-hear headphones. Bowers & Wilkins debut in-ear headphones bring the option of amazing clarity of sound, innovative design, and high-quality materials for the discerning customer who demands premium performance from in-ear headphones.

Best in class sound quality is an attribute long associated with Bowers & Wilkins products. From the 800 Series Diamon to Zeppelin air to the highly-regarded P5 mobile hi-fi headphones, Bowers & Wilkins products have stood out within their respective categories for 45 years. C5 takes the quality to a new arena: in-ear headphones.

As with all Bowers & Wilkins products, C5 is a mixture of long-held acoustic principles and technological advances. Key among the advances is the Micro Porous Filter. This acts a diffuser, enabling C5 to deliver pristine, natural audio, while also providing a more spacious performance than previously possible from in-ear headphones. It also has the advantage of limiting noise bleed, and together with the noise-isolating properties of the sealed fit, this allows users to lose themselves in flawless audio.

Almost as vital as performance in the in-ear headphone area is comfort and quality of fit. C5 addresses this with the inroduction of the proprietary Secure Loop design, an ingenious innovation where a cushioned loop fixes quickly and comfortably in the inner ridge of the user's ear. This solution holds C5 in place for improved sound, and also makes it ideal for use on the move and during activities. The Secure Loop is infinitely adjustable, so it works perfectly with anyone's ears.

Adding to this sense of Comfort is C5's Tungsten Balanced design. Here, high-mass material is located closer to the user's ear, for an improved seal for better sound and noise isolation. Elsewhere C5 is crafted from high-grade aluminum for a premium-quality finish.

C5 has been design specifically to work with Apple devices, and comes supplied with a 'Made for iPod, iPad remote and microphone. Audio playback will work with most devices that have a standard headphone output.