Rotel Launches RCX-1500

All in one hi-fi system with internet radio and wireless streaming

Complete hi-fi system in one-box. Shares technology with key components in flagship 15 Series. DAB and internet radio. High-quality wireless audio streaming from a PC. Exceptional build quality.
Rotel is proud to announce the RCX-1500: a complete hi-fi system in a single box, which mixes 50 years of Rotel engineering heritage with the very latest music-delivery technology. A blend of high-quality audio and simple-to-use convenience, the RCX-1500 is destined to be a high popular addition to Rotel's acclaimed flagship 15 Series.

The RCX-1500 boasts a CD player, stereo amplifier, internet/DAB/FM tuner and the ability to stream music either wirelessly or via an Ethernet connection from a computer. Just add a pair of loudspeakers for a system that provides true hi-fi sound, but with the added convenience and space saving ability of a single unit.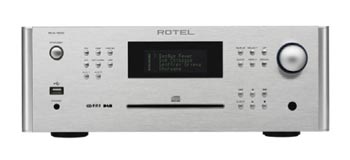 While the RCX-1500 is an all-in-one model, it has been engineered using components that you would find in more expensive separates. The DAC is the high-performance Woflson used in Rotel's acclaimed RCD-1520 CD player with 24 bit / 192kHz decoding. The amplifier uses Rotel's innovative Class D design that is highly efficient, runs cooler than older A/B designs and provides plenty of voltage and current to easily drive lower impedance speakers down to 4 ohms. With 100 watts per channel available, even large power hungry speakers will shine when connected to the RCX-1500.

The receiver's tuner section includes FM , DAB and internet radio so listening opitons are virtually limitless! There are presently over 1500 Internet radio stations listed. And in order to help keep favourite stations handy, the RCX-1500 includes 30 possible presets for instantaneous access to FM, DAB and internet broadcasts. A wireless USB to Ethernet dongle (802.11b/g) is provided for network connection, or a wired connection can be used.

The RCX-1500 supports UPnP technology. UPnP devices are 'plug-and-play' in that when connected to a network they automatically announce their network address and supported device and services types, enabling clients that recognize those types to immediately begin using the device. The RCX-1500 will stream your music files using Windows Media Player 11 (or 12 with Windows7). Supported codecs include RealAudio, WMA, MP3, AAC+ (non DRM), AU, WAV and AIFF.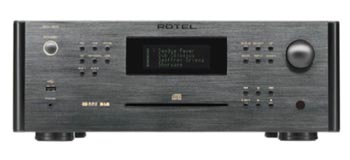 In addition, the RCX-1500 is also a very high quality CD player, based on our outstanding RCD-1520. There are still lots of silver discs in most people's homes and the RCD-1520 will get most out of them! As if all that isn't enough, an RS-232 port provides system control and bi-directional feedback.

The RCX-1500 is without doubt, one of the most flexible, high performance, single chasis stereo components available today.