Triton Two Honored with Absolute Sound 2012 Editors' Choice Award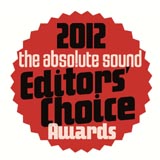 Every year the editors of The Absolute Sound choose their favorite products in multiple categories. This year, the GoldenEar Triton Two was honored with a 2012 Absolute Sound Editors' Choice Award in the category of Loudspeakers $2500- $3000 a pair.

GoldenEar Technology is thrilled to receive this very special award from such a prestigious and well respected publication. It joins the many, many awards that the Triton Two has received in the last year, clearly making it the most highly honored new speaker in history. TAS 2012 Editor's Choice Award

Here's what they had to say:

The Triton Two handles high frequencies via a superb Heil-type tweeter, the all-important middle frequencies via dual ultra-wide-bandwidth midrange drivers, and the low end with a sophisticated 1200-watt DSP-controlled subwoofer. Together these elements give you a slender, full-range floorstander that sounds astonishingly refined, and offers robust dynamics and spectacular 3-D imaging. Easy to drive, the Triton Two can be powered effectively with good, small amplifiers.