An Extraordinary New Rave Review On The Complete Triton Seven Theater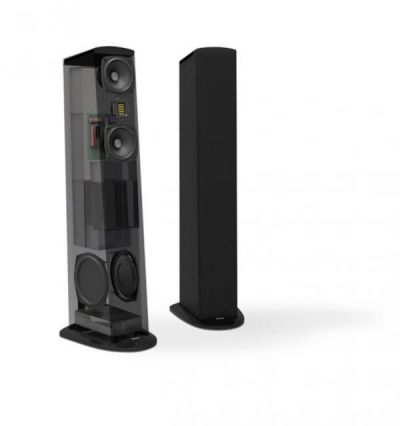 As you know, GoldenEar Technology has received many rave reviews on the Triton Sevens from many important publications all over the world. Now, Carlo Lo Raso has just written a very exceptional and detailed review for Secrets of Home Theater and High Fidelity on a full 7.1 Triton Seven home theater package, including Triton Sevens, a SuperCenter XL, ForceField 5 and 2 pairs of SuperSat 3s.
Did he like it? No, he loved it, raving,"One hell of a home theater package" ..." Its sound will stun your friends, frighten your pets and make your children giggle with excitement. All this without having your spouse regard you crossly...."

The spouse acceptance factor is, of course, helped by the fact that he felt, "The Sevens themselves are a rather elegant looking pair of speakers."

And speaking of the Sevens themselves, Carlo goes through some quite detailed listening, first of the Sevens for two channel music, and then the full system. How many ways did he love them? Many, many, many to be sure!

"They handled everything I threw at them with aplomb. ... The speakers handled Holy Cole's voice with the utmost detail and delicacy."

Piano?

"They rendered Mr. Conte's piano with all the weight and density necessary to give his key strikes wonderful musical life."

Strings?

"Smooth, smooth, smooth ... .As the mass of strings swelled to the higher notes, the sound was admirably light and airy, devoid of any of that cringe-worthy edginess strings can get on some speakers ... I have not ever heard these strings sound so achingly beautiful in this room before."

Imaging and soundstage?

" ...almost the best that I have ever heard it, practically holographic ... All this with a soundstage that makes you think that you're in this particular performance and not just watching it from the outside."

And best of all: "The capper for me was how the Triton Sevens reproduced the sound of the venue."

And bass? "Pretty darn remarkable...Another thing that became imminently clear was the quality and quantity that the Sevens put forth. It just plain floored me ... I have not heard this level of bass reproduction from speakers this size and price before...just marvelous rendered pitch perfect with plenty of depth, detail, weight and decay."

Whew, and this is the Sevens by themselves! And what about home theater and surround sound? Well, he thought the system was, "Just breathtaking...powerful, dynamic and engrossing. ... The Triton Sevens did an excellent job of establishing the soundstage with a sonic image that was wide and deep. ... The little ForceField 5 sub proved itself to be an overachiever, fully capable of rattling the walls, doors, picture frames and anything else that was not tied down."

And at the same time,"The subwoofer sounded completely musical..."

And the surround field creation? "The SuperSat 3s proved themselves to be true champs in surround duty".

And finally,"The SuperCenter XL was excellent at keeping the the dialogue clear and intelligible while still rendering the sound effects and score parts it was tasked with."

And with music,"The SuperSat XL showcased all the power and grit in the bluesman's pipes and it made the case for having a good sized and capable center speaker very convincingly."

We love his final statement,"Hats off to you, Mr. Gross and your merry band of speaker makers."