Very Exciting Goldenear Technology's New Triton 7 Review By Steve Guttenberg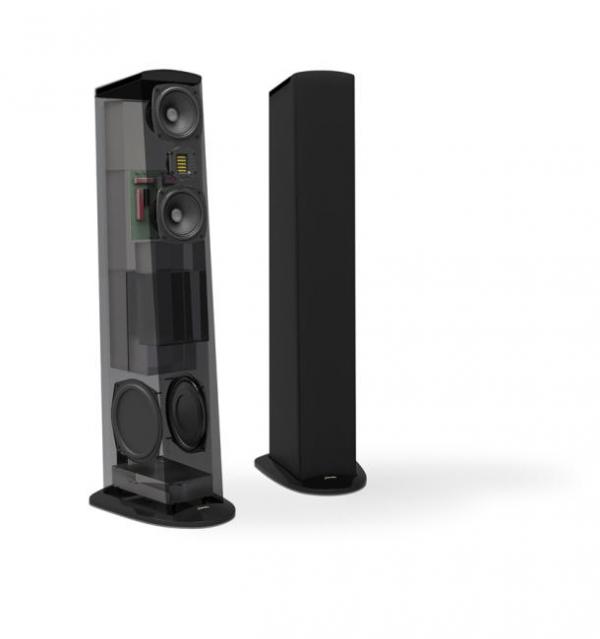 The GoldenEar Technology Triton Seven is, as we audiophiles like to say, "transparent" -- it sounds like an open window to the sound of music. That's always the goal for high-end speakers, but only the very best ones take you all the way there.

The Triton Seven's slender cabinet leaves no doubt: this is a thoroughly modern design. The swept-back, nonparallel-sided cabinets, and high-gloss black accents are distinctive; I'm sure the Triton Seven will never be mistaken for just another big-box tower.

The Triton Seven's front, sides, and rear are covered with a wrap-around black cloth grille; the cabinet's top cap and base are high-gloss piano black. The speakers have heavy-duty, all-metal speaker wire connectors. It's 39.75 inches tall and weighs 32 pounds, so it's no hassle to move around and set up. You can't easily remove the grille, but trust me, there are two 5.25-inch mid/bass drivers vertically flanking the Triton Seven's remarkable High Velocity Folded Ribbon tweeter. Similar to the tweeters in my favorite Emotiva and Adam Audio speakers, this tweeter's clarity surpasses what you get from dome tweeters in more-conventional speaker designs. The mid/bass drivers are designed in-house by the GoldenEar engineering team led by Bob Johnston. The Triton Seven's tweeter is used in all GoldenEar speakers, including the flagship Triton Two tower speakers. Oh, and each Triton Seven also has a pair of GoldenEar 8-inch passive radiators on the sides of the cabinet, near the base.

Don Cherry's "Codona" jazz CD is loaded with exotic instruments, and the Sevens were fully capable of transporting me back to the sessions. With the lights off in my listening room, the believability of the sound was astonishing. No comparably priced towers can touch the Triton Seven's clarity, and with that clarity comes a remarkable sound stage; the speakers disappear as sound sources.